6 Reasons Why Employee Time Tracking Matters
At a first glance, employee time tracking may seem like a waste of time. But every business owner knows the importance of tracking employee time and attendance.
Here are the top 6 reasons why employee time tracking really matters:
1. Albert Einstein had only 24 hours, so do you and your employees
As a business owner, you best know how precious time is. So when you have a whole business to run, you cannot whip out extra time in the last minute and you have no time to worry about employee time and attendance.
So plan your employee shifts, make a task list and strictly stick to it.
2. We all procrastinate – no exception
"Procrastination is the art of keeping up with yesterday", Don Marquis once said and most of us would probably agree. Employees often procrastinate filling up those timesheets and when the time comes they rush to do a shoddy work of essaying the work they did.
The solution?
Use mTimeCard to save your time and the time of your employees – no more paper timesheets burdens delays – our app will all do it for you.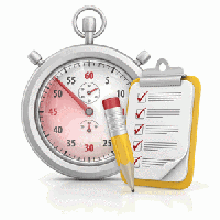 3. "I do not remember" excuse
Do your employees often say they don't remember the exact time of their shifts and often fail to arrive on time and meet customer expectations? As a business owner, chances are you have multiple projects a day and your employees work for different customers. So instead of taking notes and writing it all done, why don't get mTimeCard and do it quickly and easlity online? Your employee would love it too!
4. Busy bees are usually busy all time
When your employees have tons of work, they often say to themselves: "I will fill it when I'm not so busy". But somehow this never works.
How to solve this? It will take less than a minute for your employees to clock in and clock out from your mobile handset. Let our app do the tracking, so your employees can focus on their actual job!
5. Increased sense of accomplishment
Tracking employee time and attendance will inevitably lead to increased sense of accomplishment and stimulus. At the end of a hard working day, there is nothing better than the happy fuzzy feeling that comes when a task is complete. It will let your employees when they are almost close to the finishing line and will give them the additional motivation they need to get the job done.
Quick tip: track employee time and work shifts regularly.
6. It's a Friday job
It's the end of the day and the end of the working week. And you can probably think of thousands of more interesting things to do than filling up timesheets. So do your employees!
So instead of wasting your employee time time, why don't you try mTimeCard to automate the whole time tracking process? Time and attendance reports will be generated only and easily accessible for review. Not to mention your payroll burdens will be reduced to a minimum!
Sign up today for a free trial: mTimeCard