mTimeCard for QuickBooks
mTimeCard time tracking for QuickBooks now offers a great way to improve your business by simplifying the payroll process for clock in online!
Save time and effort with mTimeCard time and attendance for QuickBooks
mTimeCard's integration with # 1 rated small business accounting software QuickBooks will help you save time and effort by generating streamlined payroll and time reporting. No more need for manual timekeeping reports, the working hours are imported automatically in QuickBooks, making the payroll hassle of your accounting much quicker and easier.
Generate streamlined payroll in three easy steps
1. Track employee hours with our Clock in/ Clock out application from mobile phone at any business location.
2. Approve employees' shifts and time records in the clock in software.
3. Get automatic imports of time tracking data in QuickBooks for quick, easy and accurate payroll.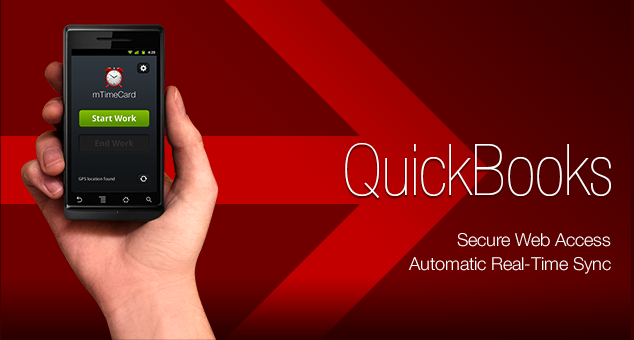 How mTimeCard for QuickBooks will improve your business performance?
Do you wonder how mTimeCard for QuickBooks will affect your small or medium-sized business? Try it for free and you will enjoy better time management and time and attendance, combined with increased productivity and effectiveness, leaving you with less burdens and more time to focus on your business objectives.
Our application for clocking in provides a simple, affordable way to track your employee clock in time records and attendance, leading to greater accuracy for both employer and employee, as well as improved levels of loyalty and transparency.
*Please note that mTimeCard clock in and clock out is only available with QuickBooks Online Plus plan.
Try mTimeCard time tracking for QuickBooks for free
A 30 day risk – free trial of mTimeCard for QuickBooks is available at
http://appcenter.intuit.com/mtimecard.
After this period, the price is $24.90 per month, covering 10 users + 1 Admin.